Skip to Content
Tree Cabling and Bracing Services in Dagsboro, DE
In order to reduce the risk of failure for weakened branches and multiple stems, we apply cables and brace rods. These supplemental structural supports help strengthen your trees and allow them to grow up big and strong. We use cables made from high-strength steel and attach them to bolts that we then install into the upper crown of the tree. This allows for a superior support system that limits the movement of weak branches. In turn, this lessens the likelihood of these branches falling during heavy winds and storms. On the other end, braces are thread rods we install through unions of particularly weakened branches. We combine them with multiple stems to build a sturdy support to prevent them from twisting, or torsional, forces from snapping your tree limbs. Learn more about how cabling and bracing can save your trees of all sizes. Call Lawson's Tree Service and Landscaping today for a free estimate!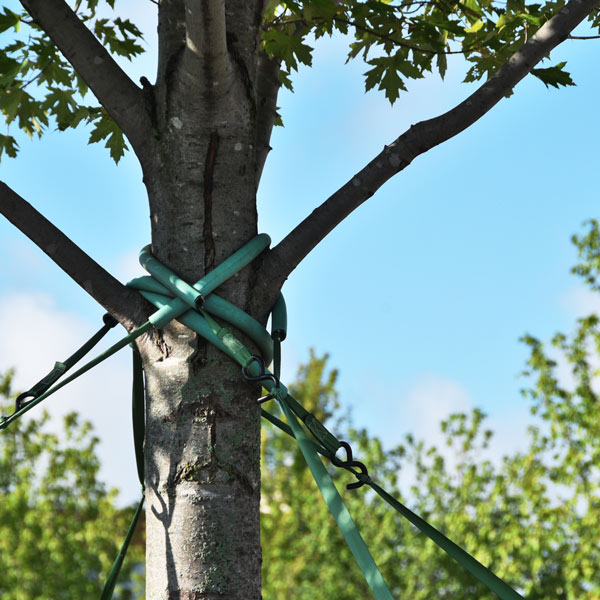 Why Should I Cable and Brace My Trees?
Inclement weather in Dagsboro, DE can knock down branches, limbs, and even entire trees. We're here to alleviate these symptoms by providing strong supports that ensure your tree's structural integrity without becoming an eyesore. For over 30 years, the expert tree specialist at Lawson's Tree Service and Landscaping has been cabling and bracing trees to pretend damage to properties. We have the training and expertise to efficiently apply these supports in the right places to minimize damage and effectively save your trees and property. Falling trees and branches can cost a fortune in property damage, not to mention damage to you and your family. It's important to properly asses each tree for structural support before installing cables and braces. Each tree is different and requires specific care to make sure they last a long and healthy life. We do not recommend trying to attach supports to trees yourself. You could end up causing more damage instead of helping. You may also lower the life expectancy of your tree and putting yourself at risk of falling damage. Contact the experts today and save your trees!
30 Years of Experience Maintaining Trees
The team at Lawson's Tree Service and Landscaping has your best interests in mind when it comes to your trees. We treat each property as our own, putting in the appropriate care and attention in every step. If your trees look weak, or you have noticed previous falling limbs during bad storms, it may be time to contact us to install cables and braces. You'll never know until one of our team members comes out to take a look. We offer free estimates on our work and look forward to helping you preserve the structural integrity of your trees.
Customer's & Trees Deserve Quality Care